Als social advertising agency krijgen we vaak de vraag of we de resultaten van een campagne op social media op één of andere manier kunnen voorspellen.  Ja, dat kan via social media benchmarks! Al is een exacte voorspelling erg moeilijk, kunnen we wel een grondige inschatting maken via een analyse van de social media kanalen. Aan de hand van social media benchmarks kan je als bedrijf je budget zo optimaal mogelijk besteden om zo de best mogelijke resultaten te behalen.
Benchmarks meegeven is niet eenvoudig en ook een beetje risky. Er zijn namelijk ontzettend veel factoren die invloed hebben op die gemiddelden zoals:
De historiek van de advertentie account,
De sector,
Concurrentie op dat moment,
De timing (er zijn maanden dat de gemiddelde CPC hoger ligt dan gemiddeld bvb. Denk aan de kerstshopping periode),
Je doelgroep,
Je advertentie,
Maar ook je landingspagina,
…
Maar natuurlijk helpen we je graag op weg om achteraf te kunnen bepalen of je campagne succesvol was of niet. Zolang je bovenstaande puntjes maar in het achterhoofd houdt.
Voor we in berekeningen duiken, zetten we voor Facebook Newsfeed enkele social media benchmarks op een rijtje die wij gebruiken voor onze inschattingen. Deze cijfers kan je als beginnend adverteerder gebruiken als leidraad. Eenmaal je voor je bedrijf enkele campagnes hebt opgesteld, kan je je eigen benchmarks gebruiken om een analyse van je social media advertenties te maken en de resultaten van nieuwe ads in te schatten.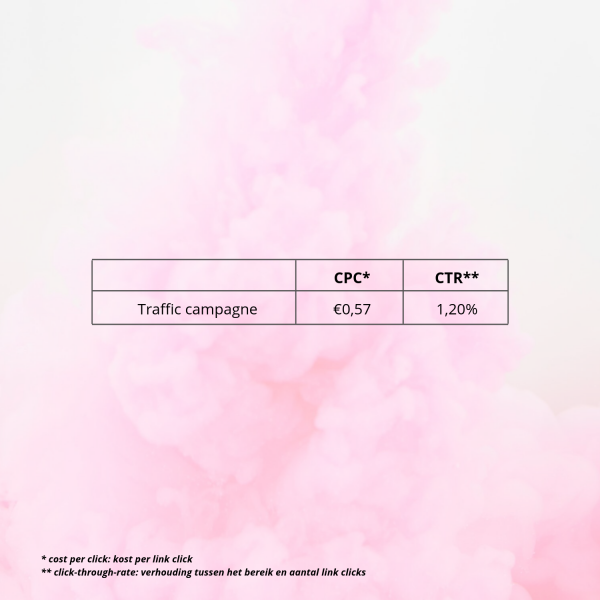 Hoe gebruik je social mediabenchmarks om resultaten in te schatten?
Om je resultaten te berekenen, heb je nog wat extra informatie nodig, zoals:
de grootte van je doelgroep
campagnebudget of budget per doelgroep
We leggen het even uit aan de hand van een voorbeeld:
Je zet een Facebookcampagne op voor het downloaden van een e-book. Je doelgroep telt 220.000 personen en je budget is €500. Van de totale grootte van de doelgroep, schatten wij steeds dat we 30% van de personen effectief bereiken.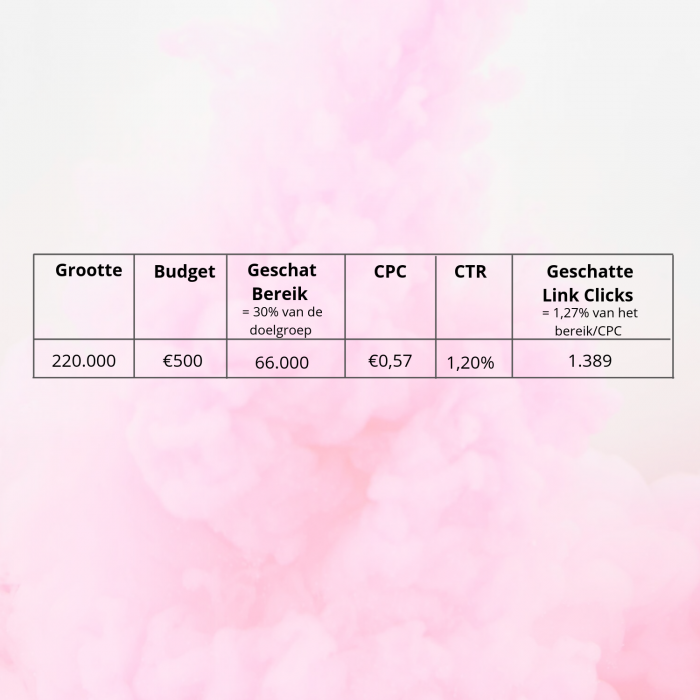 Het kan ook zijn dat Facebook de grootte van je doelgroep niet kan weergeven en dat je dus enkel over de volgende gegevens beschikt:
je campagnebudget of budget per doelgroep
geschatte CPC
geschatte CTR
Kleine tip: mocht Facebook de inschatting van de doelgroepgrootte niet weergeven in de ads manager, kan je dit ook bekijken via het onderdeel "doelgroepen". Daar krijg je geen precieze inschatting, maar je krijgt wel een idee of je doelgroep uit een duizendtal personen of tienduizenden bestaat.
Dan gaat de berekening als volgt: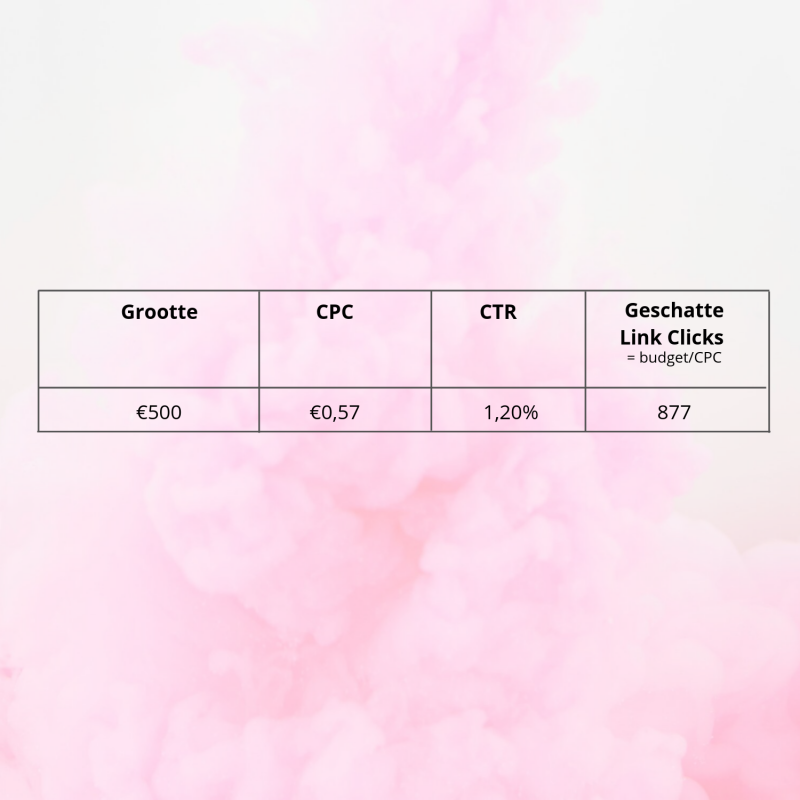 We hopen dat deze tips je alvast helpen om je social media benchmarks te berekenen. Ben je nieuwsgierig naar wat de resultaten kunnen zijn voor conversies en leads voor jouw bedrijf? Vul dan het onderstaand contactformulier in en we zoeken het voor je uit.